When dealing with integration between Salseforce and Mulesoft we like to think we are playing in our own court! With more than 5 years experience on the tools we guarantee a seamless experience when it comes to integrating these 2 platforms.
Leveraging the Anypoint Connector for Salesforce (Salesforce Connector) we enable our customers to create apps that react to Salesforce events such as adding, changing, or deleting objects, topics, documents, and channels.
Salesforce Connector exposes methods for accessing Salesforce, including working with the Salesforce Apex classes and bulk API .This connector works with the Salesforce SOAP API, REST API, Bulk API, and Streaming API, depending on the operation you configure.
Each API call uses a request/response pattern over an HTTPS connection. All required request headers, error handling, and HTTPS connection configurations are built into the connector.
Following some typical use cases:
Set up HTTP Listener, Transform, and Create Account:

Schedule a trigger, query the result steam, transform the message, and write to a file: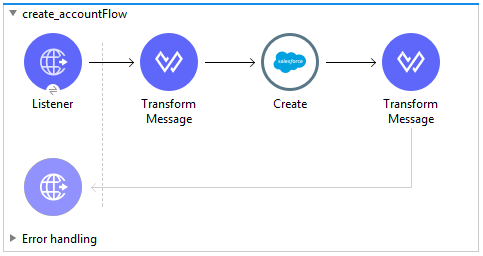 MuleSoft Accelerator for Salesforce Clouds
MuleSoft Accelerators for Salesforce Clouds enable organizations to implement critical integration use cases for Service Cloud and B2C Commerce Cloud, faster and easier than ever before.
The solution includes out-of-the-box APIs, connectors, and integration templates that help unlock critical data from external systems such as SAP, ServiceNow, and Jira; all the while guiding you to adopt best practices synthesize from thousands of customer implementations.
These assets can be used as is or extended to meet your company's unique needs.